Mary Jane Luarez
HR Consulting and Payroll Manager
Area of Focus:
HR Consulting | Payroll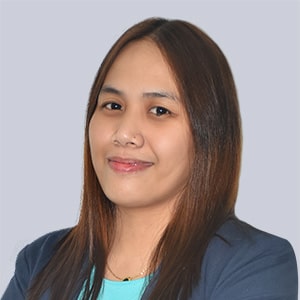 Mary Jane "Mhay" Luarez is the HR Consulting and Payroll Manager of InCorp Philippines. With over a decade of exposure in HR, Mhay has worked extensively with various clients of varying corporate sizes.
Prior to being the HR Consulting and Payroll Manager, she was the Assistant Manager specializing in Payroll Consulting and Management for InCorp Philippines. She also worked as an HR Practitioner focused on Compensation and Benefits for BPO, Retail, Sales & Distribution, and Manufacturing companies.
She brings value to her clients with her in-depth experience and knowledge in payroll processes and policies in dealing with different government bodies to ensure her clients' compliance.
She obtained her undergraduate degree in Psychology from Rizal Technological University and has been a Certified Payroll Professional since 2015.
Qualifications / Professional Memberships
Bachelor of Science in Psychology – Rizal Technological University
Certified Payroll Professional (since 2015)
Looking to establish a corporate presence in the Philippines?