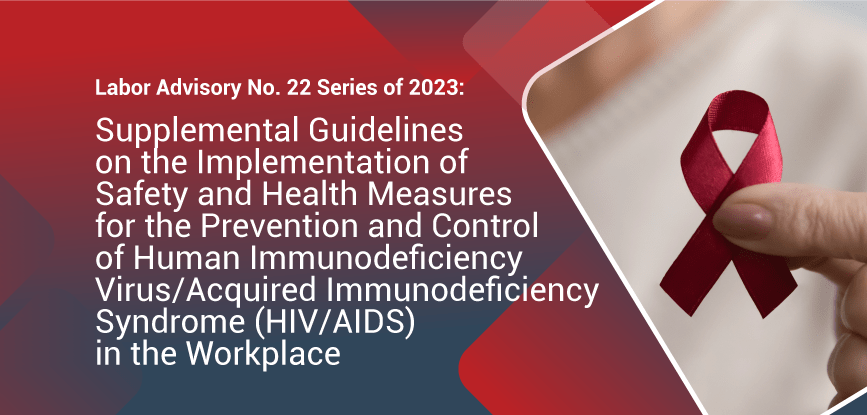 Labor Advisory No. 22 Series of 2023: Supplemental Guidelines on the Implementation of Safety and Health Measures for the Prevention and Control of Human Immunodeficiency Virus/Acquired Immunodeficiency Syndrome (HIV/AIDS) in the Workplace
Per Labor Advisory No. 22 Series of 2023, employers must develop a workplace HIV/AIDS prevention and control program that includes activities to raise HIV/AIDS awareness. Employers must refer employees in need of HIV/AIDS-related health care to DOH-accredited hospitals and social hygiene clinics. Employees who require additional testing for HIV/AIDS-related health issues may use healthcare services and facilities such as those provided by the PhilHealth Konsulta Package.
For employees who may require additional medical care as a result of their disease, their employers are encouraged to are advised to provide the following work accommodations and arrangements:
Paid leave benefit on top of existing leave benefits under the company policy, collective bargaining agreement, the Labor Code, and special laws;

Flexible work arrangements, re-scheduling of work hours, and adoption of other work arrangements, including telecommuting; and other benefits.
In accordance with Republic Act no. 10173,  Medical records of concerned employees shall be handled. Employers must submit the Annual Medical Report (AMR) Form to the DOLE Regional/Provincial/Field Office with authority over the workplace, detailing the number of HIV/AIDS-related activities and program implementations at the workplace.