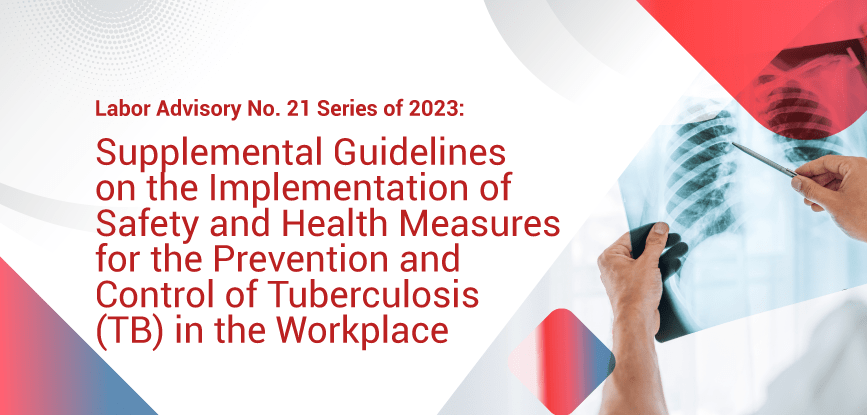 Labor Advisory No. 21 Series of 2023: Supplemental Guidelines on the Implementation of Safety and Health Measures for the Prevention and Control of Tuberculosis (TB) in the Workplace
According to Labor Advisory No. 21 Series of 2023, employees undergoing OSH-related health tests and have chest x-ray findings suggestive of tuberculosis (TB) may consult with or be sent to private or public TB Directly Observed Treatment Strategy (DOTS) facilities. In addition, Employees who require additional testing for TB-related health issues may use healthcare services and facilities such as those provided by the PhilHealth Konsulta Package.
For employees diagnosed with TB, especially throughout the 14-day infectious phase of the treatment process, their employers are encouraged to provide the following arrangements for employees:
Paid leave benefit on top of existing leave benefits under the company policy, collective bargaining agreement, the Labor Code, and special laws;
Flexible work arrangements, re-scheduling of work hours, and adoption of other work arrangements, including telecommuting; and other benefits.
In accordance with Republic Act No. 10173, the medical records of concerned employees shall be handled. Employers must submit the Annual Medical Report (AMR) Form to the DOLE Regional/Provincial/Field Office with authority over the workplace, including the number of employees who had chest x-rays and were diagnosed with tuberculosis.