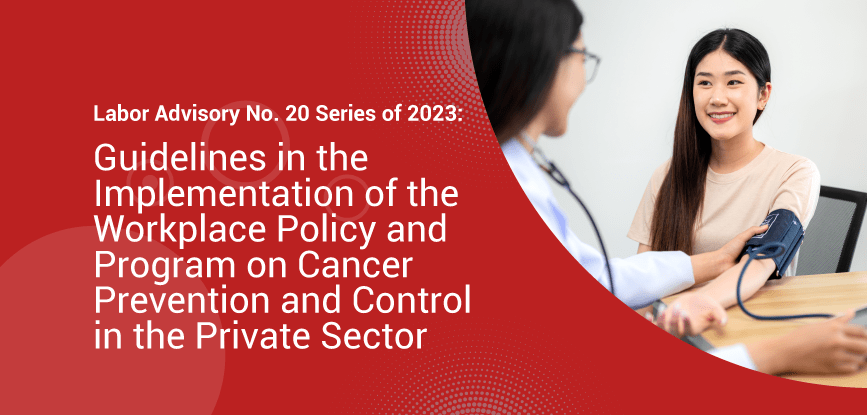 Labor Advisory No. 20 Series of 2023: Guidelines in the Implementation of the Workplace Policy and Program on Cancer Prevention and Control in the Private Sector
In accordance with Labor Advisory No. 20 Series of 2023, DOLE released the Cancer Prevention and Control in the Workplace Policy and Program that includes: prevention, access to screening, diagnosis, and treatment, return to work, compensation, and social policies that employers and employees shall adopt in the private sector.
Employers and their employees are responsible for ensuring an effective implementation of this program in the workplace. This also means that employers will refer employees seeking to be screened for cancer with different facilities included in the PhilHealth Konsulta Package.
Employees who have been cancer-screened may obtain cancer medicine and cancer assistance funding through DOH access sites, as well as the Philhealth Z packages for certain types of cancer. In addition, employees diagnosed with cancer may go to the Local Government Unit (LGU) where they reside, and acquire a Persons With Disability (PWD) identification card.
Employees with cancer may seek financial or medical assistance through the following organizations:

Employees who need further medical attention due to their illness are encouraged to be provided with the following work accommodations and arrangements by their employers:
Paid leave benefit on top of existing leave benefits under the company policy, collective bargaining agreement, the Labor Code, and special laws;
Flexible work arrangements, re-scheduling of work hours, and adoption of other work arrangements, including telecommuting; and
other benefits.
In accordance with Republic Act No. 10173, the Medical records of concerned employees shall be handled. Employers must submit the Annual Medical Report (AMR) Form to the DOLE Regional/Provincial/Field Office with authority over the workplace, noting the number of cancer-related activities and program implementation in the workplace.