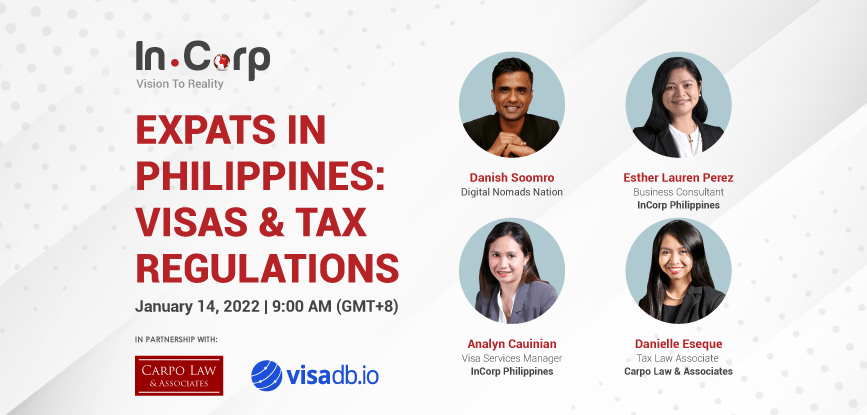 [WEBINAR] Expats in the Philippines: Visa and Tax Regulations
InCorp Philippines, in partnership with Visadb.io, brings you "EXPATS IN THE PHILIPPINES: VISA AND TAX REGULATIONS." This webinar will guide you through imperative tax and visa regulations that are applicable to foreign nationals seeking employment in the Philippines and how such regulations affect their relocation to the country. 
This webinar was live on stream via WebinarJam on Friday, 14th of January 2022, at 9:00 AM (GMT+8). 
---
Event Overview:
The Philippines is known for its beautiful tropical scenery, diverse and hospitable culture, and high-end business districts. Many foreign nationals consider the country as one of the most ideal places to work in the Asia-Pacific Region. Its close relations with key global economic players such as Singapore, Hong Kong, the United States, and the European Union make it an attractive destination to start and grow your career. 
In partnership with Visadb.io, InCorp Philippines presented a webinar entitled, "EXPATS IN THE PHILIPPINES: VISA AND TAX REGULATIONS." The webinar covered essential tax and visa regulations applicable to foreigners, along with how they can ensure full compliance with such regulations while staying in the Philippines.
The webinar featured Danish Soomro Founder & CEO of Visadb.io, with Atty. Esther Perez Legal Counsel and Business Consultant and Analyn Cauinian Visa Services Manager of InCorp Philippines, and Atty. Danielle Eseque of Carpo Law and Associates. The speakers gave an in-depth look into the necessary tax and visa regulations for foreign workers in the Philippines. 
During the event, participants were actively participating in learning about such regulations and how they can apply scenarios such as business incorporation, employment, study, and retirement towards their lives and activities in the Philippines. The speakers were eager to provide participants with a better understanding of the procedures, requirements, and restrictions when working in the Philippines as foreign nationals.