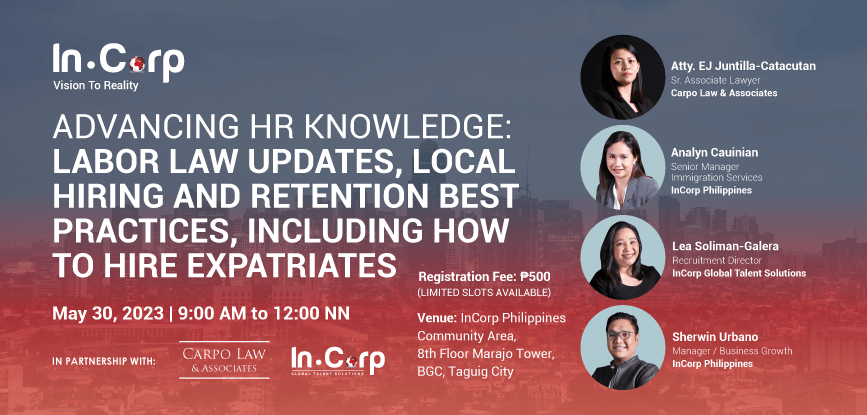 Advancing HR Knowledge: Labor Law Updates, Local Hiring and Retention Best Practices, Including How to Hire Expatriates
InCorp Philippines, in partnership with Carpo Law & Associates and InCorp Talent Solutions, brought you "Advancing HR Knowledge: Labor Law Updates, Best Practices on Hiring and Retaining Filipino Talents, and Know-How on Hiring Expatriates."
This live event will be held on May 30, 2023, from 9:00AM to 12:00NN (GMT+8) at the InCorp Philippines Community Area, 8th Floor Marajo Tower, 312 26th Street, 4th Avenue, Bonifacio Global City, Taguig City.
Event Overview:
As the labor market's competition increases, organizations must look for methods and ways to have an advantage when it comes to hiring and retaining local and foreign talents. Gaining deeper insights about labor laws, hiring and retaining top talents, as well as how to hire expatriates will help your entity have a clear path and a competitive advantage with recruitment and talent acquisition.
Atty. EJ Juntilla-Catacutan, Senior Associate of Carpo Law & Associates, discussed the  recent updates on Labor Law and how to properly comply with the changes from the Department of Labor and Employment (DOLE). In addition, Sherwin Urbano, Business Growth Head of InCorp Philippines, shared his knowledge on how to appropriately deal with the DOLE Labor Inspection Program.
Session 1: Labor Law Updates
Overview of recent labor law updates and their implications for employers
Discussion on the key changes and compliance requirements
DOLE Labor Inspection Program
Lea Soliman-Galera, Recruitment and Executive Search Director of InCorp Talent Solutions, and Sherwin Urbano of InCorp Philippines, showcased the strategies in attracting and hiring high performing talents as well as employee engagement programs to retain employees.
Session 2: Hiring and Retaining Talents in the Philippines
Strategies for attracting and hiring top talent in a competitive job market
Employee engagement and motivation techniques to enhance retention
Analyn Cauinian, Visa Services Senior Manager of InCorp Philippines, gave an overview of the legal framework, requirements, and compliance guidelines for employing foreign nationals to legally work in the country.
Session 3: Hiring Expats in the Philippines
Understanding the legal framework for hiring expatriates
Work permit and visa requirements for expat employees
Compliance guidelines for expat employment, including taxation and benefits
After the speakers' presentations, an engaging panel discussion and Q&A session followed.
In this live event, participants gained a deeper understanding and proper compliance on the recent labor updates as well as applying the strategies and programs as a competitive advantage for local hiring and employee retention. Furthermore,  participants also had a clearer grasp of how to legally hire foreign nationals to work in the country.