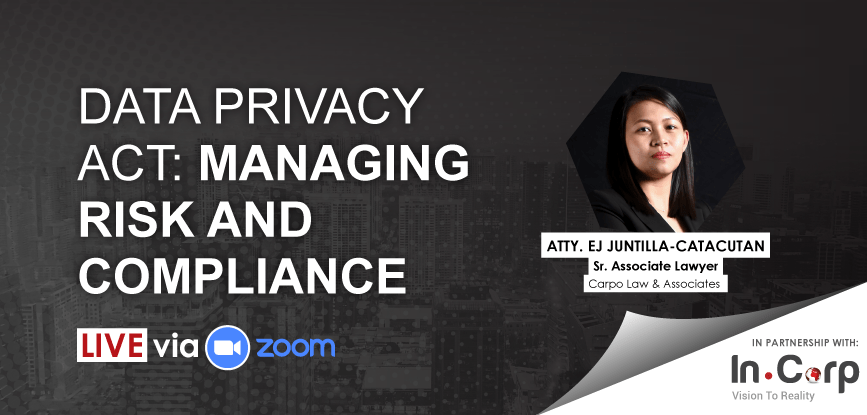 [WEBINAR] Data Privacy Act: Managing Risk and Compliance in the Philippines
Carpo Law & Associates in partnership with InCorp Philippines brought you "Data Privacy Act: Managing Risk and Compliance." This webinar talked about the importance of data privacy and the steps you can take to ensure safety and security of personal data.
This event was live streamed via Zoom on Tuesday, March 14, 2023, starting at 10:00 AM (GMT+8). This webinar was FREE of charge.
EVENT OVERVIEW:
---
The rapid growth of today's technology has brought more convenience to both businesses and consumers. However, this also raises concerns about privacy risks as well as the legal and ethical consequences of failing to protect personal data.
Atty. EJ Juntilla-Catacutan, Senior Associate of Carpo Law & Associates, gave a thorough discussion about data privacy, including:
What is the right to privacy?

DPA Sections
Key Terms in the DPA
Rights of the Data Subject
Penalties

What is DPO?

Why appoint a DPO?
General Principles
Roles and Functions

Registration with the NPC

Who must register?
Why should you register?
Event participants who joined the webinar knew more about the data privacy act and how this can help protect and secure their establishment's data privacy compliance. 
In case you missed the event or want to catch the re-run, please feel free to watch the video on our Youtube Channel by clicking on the button below.