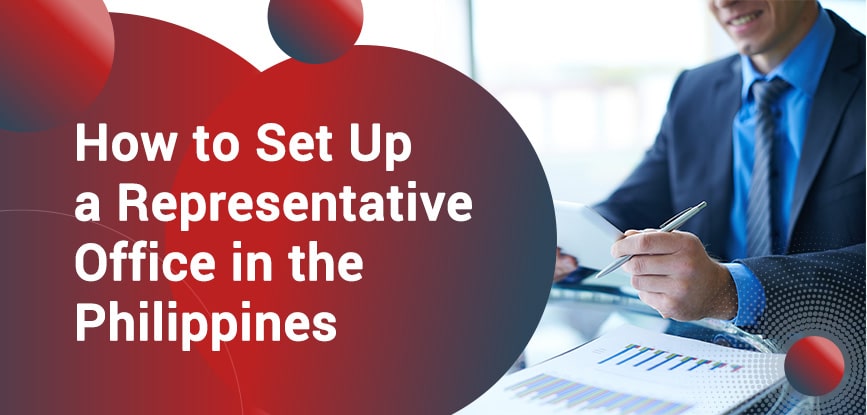 How to Set Up a Representative Office in the Philippines
The Philippines offers a unique economic landscape for foreign entrepreneurs. Owing to a mix of Western and Eastern cultures, the country is a gateway to several booming Asian markets. The Philippine government grants numerous tax and non-tax incentives to foreign businesses. They are also pushing for the automation of government transactions to make it easier for local and foreign entrepreneurs to register a business in the Philippines.
As a foreign entrepreneur, you may be tempted to launch a representative office in the Philippines. But what does that entail?
What is a Representative Office?
A Representative Office is an extension of a foreign company, under the home country's legal stipulations, that takes on certain roles allowed by Philippine law. This business structure usually acts as a liaison office. It is ideal for any foreign corporation seeking to establish a corporate base in a country where they can operate their business without engaging in any income-generating activities.
The foreign corporation is often referred to as the parent company. Its head office is responsible for all operating expenses and completely liable for the Philippine representative office.
A Representative Office is legally not allowed to generate income in the Philippines or offer their services to third parties. To cover operating expenses, the parent company has to remit at least $30,000 each year.
What Can a Representative Office Do Under Philippine Laws?
A Representative Office is only allowed to undertake certain activities in accordance with Philippine laws. These include:
Facilitate orders of clients and customers from head office
Promote products/services provided by head office
Quality control of products and goods
General administrative activities for head office
What Are the Registration Requirements For a Representative Office in the Philippines?
If foreign corporations want to set up operations in the Philippines through a Representative Office, they need to obtain a License to Do Business from the Securities and Exchange Commission (SEC).
To get this license, a foreign corporation needs to have the following documents:
SEC Application Form No. F-104 – Application of a Foreign Corporation to Establish a Representative Office in the Philippines
Certified copy of the Board Resolution from the parent company authorizing the formation of a Representative Office and designating a Philippine resident or foreign nation to receive summons and attend legal proceedings
Most recent audited financial statements of the parent company certified by a CPA and approved by the Philippine embassy
Certified copies of the Articles of Incorporation of the parent company
Certificate of Bank Deposit of $30,000
Certificate of Inward Capital Remittance
Resident Agent acceptance of appointment (only if the agent is not the signatory of the application form)
An affidavit stating that the foreign corporation is sound in its financial condition
How Can InCorp Help You?
The best way to set up your Representative Office is to take advantage of our corporate services.
Our Philippine corporate services include:
You will also gain access to our highly-trained personnel. These include:
Experienced cross-border advisors
Expansion accelerators
Qualified chartered accountants, corporate secretaries, and lawyers
We boast over 5 years of local market expertise in the Philippines. You can find our main office in Bonifacio Global City (BGC), Taguig City, Metro Manila. We also have satellite offices in Makati and Cebu.
If your business is considering setting up a Representative Office, get in touch today. We offer world-class advice and corporate solutions for businesses of all sizes looking to set up offices in the Philippines and all across Asia.
Frequently Asked Questions
What is the difference between a Representative Office and a Branch Office in the Philippines?
A company registration number is a unique number provided to each legally registered corporation in Indonesia. Also, having a company registration number identifies and protects your firm under Indonesian law.
What is the average labor cost in the Philippines?
You will find that salary rates in the Philippines are much cheaper than those in Western countries. According to data published by Numbeo, the average monthly net salary in the Philippines is only $288.33. This is over 90% less than the average monthly salary in the USA. As such, foreign enterprises can minimize their labor costs when setting up business operations in the Philippines.
What is a Resident Agent?
A Resident Agent is a professional who is authorized by a company setting up a business in a foreign country; the agent will act as a signatory and receive any legal notices on behalf of the parent company.
Set Up Representative Office in the Philippines With Ease
With a full suite of business registration and corporate compliance services, we are dedicated to helping you enjoy a seamless company formation process.