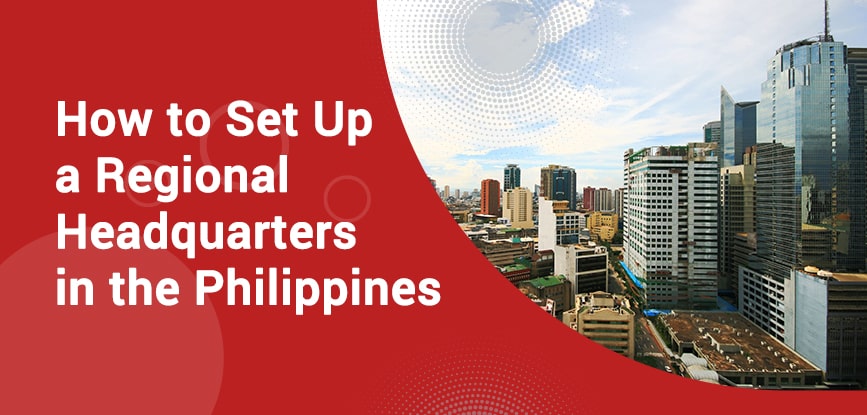 How to Set Up a Regional Headquarters (RHQ) in the Philippines
For many foreign corporations, the Philippines offers a unique and attractive economic landscape. A melting pot of Western and Eastern culture, this country is seen as a gateway to the flourishing Asia-Pacific market.
With so many tax and non-tax incentives available for foreign companies, you may be thinking about setting up a Regional Headquarters (RHQ) in the country.
But how does this benefit your business?
What is a Regional Headquarters (RHQ) in the Philippines?
A Regional Headquarters (RHQ) in the Philippines is the administrative base of a foreign corporation in the Asia-Pacific region. This business will be engaged in international trade.
However, the RHQ can only be set up by a foreign business with branches, subsidiaries, affiliates, or clients around the world. Interestingly, the RHQ is not allowed to manage its operations or earn income in the Philippines.
An RHQ has the same legal personality as the parent company – the laws to which it abides are the same laws of the country where the parent company was established.
The main goal of any Philippine RHQ is to supervise and coordinate the parent company's subsidiaries, affiliates, and branches around the world. The RHQ also conducts general administration and business planning while acting as a communications center.
The Philippine government allows RHQs to source raw materials and market products, train employees, and conduct research and development.
To support its operating expenses, the parent company is required to remit $50,000 as paid-up capital.
Usually, RHQs are established by international corporations looking to minimize operational costs by using the cost-effective Philippine labor force and taking advantage of the many tax incentives offered by the country.
How Can We Help You Set Up a Regional Headquarters?
Here at InCorp, we offer numerous business registration services for foreign corporations seeking to set up their business in the Philippines. We provide dedicated assistance and cover all bases, from company incorporation and foreign licensing to business permits and corporate housekeeping applications. We also determine eligibility for Philippine tax incentives and conduct general compliance work and corporate restructuring.
We give expert advice to various businesses, from small-and-medium enterprises (SMEs) to multinational companies, on how to establish a Regional Headquarters (RHQ) in the country. After we successfully register your business in the Philippines, we also offer the following services to ensure the company setup process runs smoothly.
FDA Registration
Application for Tax Incentives
Recruitment and Executive Search
HR Consulting
Payroll Processing
Business Expansion
Philippine Visa Processing
When you work alongside InCorp, you also gain access to our expert team. This includes:
Dedicated cross-border advisors
Expansion accelerators
Qualified lawyers, corporate secretaries, and chartered accountants
We have over 5 years of local market experience in the Asia-Pacific region. Our Philippine main office is based in Bonifacio Global City (BGC), Taguig City, Metro Manila. We have other satellite offices in Cebu and Makati.
If your company is considering setting up a Regional Headquarters, contact us today. We are here to help your business expand its reach in an economically exciting market.
Frequently Asked Questions
What is the difference between an RHQ and an ROHQ?
The main difference between an RHQ and an ROHQ is the duties each entity is allowed to perform. For example, an ROHQ (regional operating headquarters) is allowed to derive income in the country by performing services to its affiliates, branches, and subsidiaries around the world. As aforementioned, an RHQ is not allowed to generate income in the country; in addition, it can only serve as a supervision and coordination center.
What are the tax incentives for an RHQ in the Philippines?
There are a number of tax incentives for RHQs in the Philippines. These include:
Tax and duty-free importation
Exemption from all local taxes, charges, and fees
Expatriates are also offered the following non-tax incentives:
Multiple entry visas for expatriates, including their partner and unmarried children under the age of 21
Exemption from most fees (except reasonable admin costs)
Exemption for securing the Alien Certification of Registration
Non-immigrant visa will be fast-tracked and processed within 72 hours by the Bureau of Immigration
Reduced tax rate of 15% on salaries and annuities
Travel tax exemption
Tax and duty-free importation of used household and personal items
How many other countries do InCorp offer services?
As well as offering our services in the Philippines, we also provide multinational company solutions in:
Hong Kong
Indonesia
India
Malaysia
Vietnam
Set Up Your Regional Headquarters in the Philippines With Ease
With a full suite of business registration and corporate compliance services, we are dedicated to helping you enjoy a seamless company formation process.