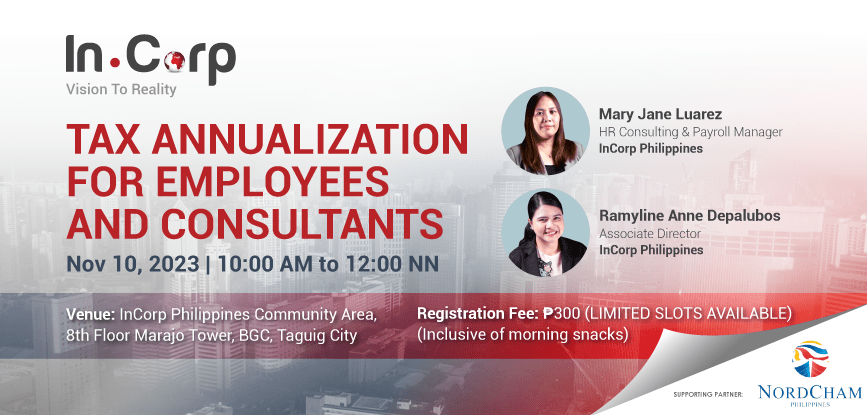 [EVENT] Tax Annualization For Employees and Consultants
InCorp Philippines, with our supporting partner the Nordic Chamber of Commerce of the Philippines, brought you "Tax Annualization For Employees and Consultants." This event dove into the importance of employee annualization and Income Tax Return (ITR) for self-employed individuals.
This event was held on November 10, 2023, from 10:00AM to 12:00NN (GMT+8) at the InCorp Philippines Community Area, 8th Floor Marajo Tower, 312 26th Street, 4th Avenue, Bonifacio Global City, Taguig City. The registration fee was ₱300 per participant.
Event Overview:
One of the compliance processes that employers face annually before the year ends is the tax annualization of their employees. This process involves calculating year-end tax adjustments to ensure that companies withhold and report the required tax due by the BIR.
When you are working as a self-employed individual, you are still required to comply with the tax regulations under the Bureau of Internal Revenue (BIR) by filing the Income Tax Return (ITR). The only thing that needs to be clarified is the type of ITR form to fill out and submit based on the nature of income earned.
Mary Jane Luarez is an HR Consulting and Payroll Manager of InCorp Philippines. The extensive experience she has gained in the HR industry has equipped her to assist clients in navigating the payroll processes and policies in compliance with different government agencies.
Ramyline Anne Depalubos is the Financial and Tax Compliance Associate Director of InCorp Philippines providing bookkeeping, tax compliance and other financial services.
Event Outline:
Tax Annualization for Employees

Why Should We Annualize?
Pain Points During Annualization
BIR Updates
Strategies and Techniques

Income Tax Return (ITR) for Self-Employed Individuals

Who is required to file an ITR?
What type of income needs to be declared in the ITR and what are the allowable deductions?
How to accomplish the ITR?
When is the deadline of filing the ITR?
Where to file and pay the ITR?
Why do we need to file and pay the ITR?
Reminders
Participants of this event got valuable insights into the Tax Annualization process and ITR Preparation, updates on BIR regulations, and learned strategies to comply with this annual requirement.